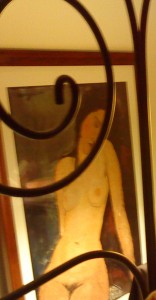 Working on another brutal deadline, and I upped the stakes for myself by taking on the editing for "Madhouse: True Stories of the Inmates of Hostel 4". This was a wonderful project, and I am very glad I did it. But boy has that got me in the weeds… Still, I will be on target, and deliver my next book by the end of the year.
Some thoughts on writing it:
Why is it hard to write erotica? For sure, it's hard. A friend asked me, joking, if I am "scared by my own ghost story." The answer is, it takes so much concentration, such focus on the physical-mental-emotional state of the characters in each story that I forget myself. So no, I am not scared by my own ghost story. Or, to be clear, I am not turned on by my own erotic story. For me, writing sex and sexuality is very much a mind exercise, more than any other kind of writing I have done thus far.
It is very hard to stay where I want to. I don't want the focus of any of my stories to be on sex or sexuality in an overt way – it has to be part of the story, of the people in the story. And sometimes the characters don't play along. They do what they want, and sometimes they don't want to be sexual. Maybe I should not have committed to write to such a narrow spec. But I have, and it's interesting, to say the least.
This is the first post about writing, I may do more. It is interesting to pay attention to the process this time, something I haven't done before…
The first thing I did was name the kind of writing I intend for this book. So after I finished my first story, I did just that: I named the book. It helps me to keep this in mind, it keeps me where I want to be.
It will be called
Slither: Carnal Prose by Urmilla Deshpande
Yes, Carnal Prose. My own genre. I am delighted by my own brilliance. I hope it doesn't end with the title.