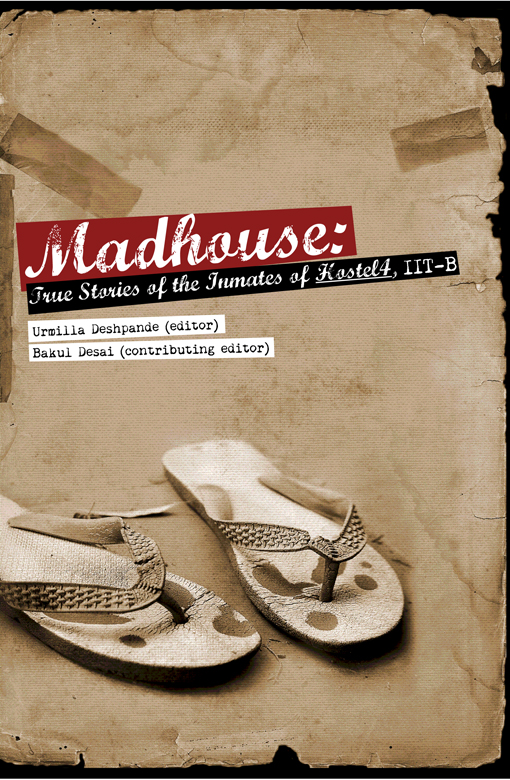 Madhouse: True stories of the Inmates of Hostel 4 is an anthology of memories from now slightly above middle aged (is that end-aged?) guys who were in IIT Bombay's Hostel 4 in the 80s. Some of the stories are funny, of course. I should know, I edited this book. But my favorite are those that inadvertently and unintentionally hint at what it must have been like to be a young male in a repressive time and stressful place. There is more to this book than alcohol and bhang induced hallucinations. You have to read between the puns and look between the tales to really see these young men as the sincere, insecure, driven, sometimes lonely and confused people they were.
I wonder if they learned anything from their time there. They got engineering degrees, so I will assume they learned something about science and technology and how the world works. But I wonder if they learned anything about the way people work. I am curious about the way these guys brought up their own kids.
I can answer some of my own questions, being one of those kids. And I have seen my own children partially (I say partially because I'm the other parent) brought up by one of these IIT graduates. There are no engineers so far in my family – but while editing this book, I began to understand some things, if not all. For example, while I have a tendency to ask my kids, "are you having a good time?" their Hostel 4 father is more likely to ask, "what happened to the other 2%?" when he sees his child's Algebra paper.
These guys spent five or more years in the company of others from all sorts of families, and from all parts of the country. The one thing they all had in common was a certain kind of intelligence – the kind that got them through the qualifying exams. I often wonder what the political and social views of these men are, and if they did in fact internalize the obvious and not so obvious lessons from their H4 experience. I wonder how many of them are socialists, how many atheists, how many of them live their lives within the social constructs that they came to Hostel 4 from, and how many think of themselves as the elite of the elite.
This was an extremely interesting project, it brought me into contact with IITans other than my own husband and fathers. It was a lot of fun to do it, to read through stacks and stacks of stories, to sift through the funny and serious and even grim ones, to argue with the committee about censorship and honesty, to understand their reasons (which didn't always jibe with mine) for keeping something or removing it, to give in to changes for the sake of sales – something I have never done as a writer but had to because the proceeds from this this book were being donated to a charity.
I will never do a project like this again. I say that because, along with what I learned about IIT graduates, I learned a lot about myself. For one, I don't enjoy working with groups of people. Especially when there are no other women in the group to bring a dose of normalcy. I learned that I am not charitable – I just didn't care about the plight of the mess workers in IIT Bombay, especially not over literary considerations. I loved the work itself – reading, sorting, editing, re-arranging, re-writing. But in the end I have to say, if I had two or three lifetimes I might edit in a bit of one. But I love writing, and would much rather be doing that.
Which reminds me – I have promised my editor a whole book by the end of the year. I must get to it!
Tags: Hostel 4, IIT Bombay. Hostel4, Madhouse, Westland Books